<! Beginning of buy 2 CD Albums for $15>

Great Album Sale – Buy two CD albums for $15 plus $2.50 for S&H What a super deal – buy any two albums for only $15 just click on the PayPal link below.
<! Beginning of What If Album Sales>
Latest Album released by Mizzouri Foxx – What If – This is the latest music released by the band. The album contains a bunch of new songs written and performed with the same Mizzouri Foxx style that you expect. Band members Gary Lohmann and Kenny Vaughn say "If you still love good ole 70's rock n roll music, then this album is for you". Come and discover our new songs like "You're The One I Want, Born For You, Above The Legal Limit, Crossroad" and many more. This is a culmination of creativity that was just fun to create and record for our fans. These songs were written with the intent of exposing situations that we all have experienced in life. So crank up the tunes, sit back, and enjoy our latest venture. Rock On!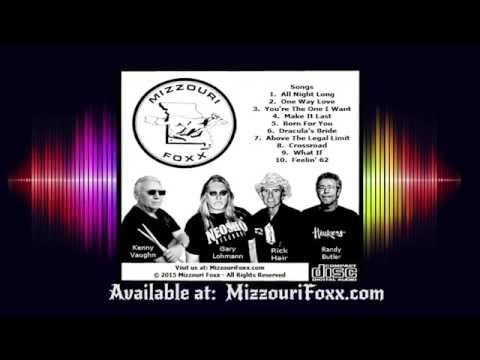 We prefer to use PayPal to make all purchases. Buy the album now! $10 + $2.50 S&H
---
On Line Music Sales – Individual Music Downloads For "Trapped Live" & "Mizzouri Nights" – Please use PayPal to pick and choose the songs you wish for your music library. Trapped Live was recorded during one of the groups live performances back in the 70s. Mizzouri Nights was studio recorded with additional new releases.
Note: If you do not see the samples, please make sure your PC system has the latest Adobe Flash plug-in. Please visit http://get.adobe.com/flashplayer/ for the player. Android mobile phones users should download the Dolphin browser app from Google. Sorry Apple iPhone and iPad users, flash is only available for jail broken devices at this time.
<! Beginning of Trapped Live Music Sample Sales>
---
Album

Song

Play Sample.mp3

Duration

Price

Buy mp3 Via

Trapped Live
Here To Play
3:48 min
US $1.00
Trapped Live
Slow Motion Love
3:37 min
US $1.00





Trapped Live
Holly Would
3:19 min
US $1.00





Trapped Live
I Want It All
3:32 min
US $1.00





Trapped Live
Lonely Days
4:02 min
US $1.00





Trapped Live
Cheater
4:32 min
US $1.00





Trapped Live
Mizzouri Nights
5:36 min
US $1.00





Trapped Live
Break'n Out
3:58 min
US $1.00





Trapped Live
Did You Have A Good Time?
11:17 min
US $1.00





Trapped Live
Rockin Tonight
3:12 min
US $1.00





Trapped Live

Entire Album



Friends – Once music is purchased, please continue on to download mp3. Check your desktop to see if your audio player opens with your new music.
---
| | | | | | |
| --- | --- | --- | --- | --- | --- |
| Album | Song | Play Sample. mp3 | Duration | Price | Buy via |
| Mizzouri Nights | Break'n Out | | 4:14 min | US $1.00 | |
| Mizzouri Nights | Cheater | | 3:59 min | US $1.00 | |
| Mizzouri Nights | Holly Would | | 4:44 min | US $1.00 | |
| Mizzouri Nights | Long Road Home | | 4:10 min | US $1.00 | |
| Mizzouri Nights | Baby Hold On | | 4:16 min | US $1.00 | |
| Mizzouri Nights | Rock N Roll Fever | | 3:58 min | US $1.00 | |
| Mizzouri Nights | I'm Playin' | | 3:42 min | US $1.00 | |
| Mizzouri Nights | Hazy Shade of Winter | | 4:09 min | US $1.00 | |
| Mizzouri Nights | You Walked Away | | 4:19 min | US $1.00 | |
| Mizzouri Nights | Hero | | 4:11 min | US $1.00 | |
| Mizzouri Nights | Traveling Man | | 3:38 min | US $1.00 | |
| Mizzouri Nights | Entire Album | Album | | US $10 | Insert PayPal button Here |
---
For the best deal – We offer 2 CDs and DVD – $25
The Best Deal – Buy All Three For $ 25 plus $5 S/H
---

Or Buy Individual CDs or Biography History DVD separate

Mizzouri Nights CD – 70's Rock N Roll Music

The Way It Was Meant To Be

$10

Compact Disc – 11 Songs

This material represents the pinnacle of the thirteen years of work as clearly documented in the Mizzouri Foxx DVD "The Biography Project". There are eleven songs on the disc and all but two were written and arranged by the band. Also three of the songs are the studio version of tunes you may have heard on the "Trapped Live" LP.

This album was recorded after the record deal the band signed with MVP records which was owned by record producer Freddie Perren ( producer for Peaches & Herb / Gloria Gaynor ). Jay Senter was the Producer on this project. Even today this music holds up and we believe it will take you back to the best days of rock and roll – The 1970's.

It's classic good times rock music that people will crank up – their car stereo, home system or i pod – the louder, the better and take a trip back to an amazing space in time, that should never be forgotten!

Artists:

Gary Lohmann

Kenny Vaughn

Randy Butler

Rick Hair

Instruments:

Lead Guitar

Drums

Bass Guitar

Keyboards

Song List

1 – Breakin' Out

2 – Cheater

3 – Holly Would

4 – Long Road Home

5 – Baby Hold On

6 – Rock N Roll Fever

7 – I'm Playin'

8 – Hazy Shades Of Winter

9 – You Walked Away

10 – Hero

11 – Travelin' Man
Trapped Live CD – 70's Rock N Roll Music

Recorded Live in 1979 at El Toro Marine Base, CA

$10

Compact Disc – 10 Songs

There are ten original songs on the disc and all were written and arranged by the band. This is the live version of the bands favorite hits.

This work was recorded before the record deal the band signed with MVP records which was owned by record producer Freddie Perren ( producer for Peaches & Herb / Gloria Gaynor ). Keith Johnston was the engineer/producer on the project. Even today this music holds up and we believe it will take you back to the best days of rock and roll – The 1970's.

It's classic good times rock music that people will crank up – their car stereo, home system or Ipod – the louder, the better and take a trip back to an amazing space in time, that should never be forgotten!

Artists:

Gary Lohmann

Kenny Vaughn

Randy Butler

Rick Hair

Instruments:

Lead Guitar

Drums

Bass Guitar

Keyboards

Song List

1 – Here To Play

2 – Slow Motion Love

3 – Holly Would

4 – I Want It All

5 – Lonely Days

6 – Cheater

7 – Missouri Nights

8 – Break'n Out

9 – Did You Have A Good Time

10 – Rock'n Tonight
Biography Project DVD

–

Mizzouri Foxx History

From The Beginning

Watch A Sample

$10

DVD – NTSC Format
Samples From 21 Different Songs

The "Biography Project" DVD was a concept by Kenny Vaughn and his good friend Tom Vincent to gather up the historical memorabilia among the band members and create a must have keep sake on the band. As you know, Mizzouri Foxx opened for many great bands like Styx, Fleetwood Mac, Van Halen, Y&T and many more. The "Project" as it's known is an hour long DVD with never before seen pictures, early performance video footage and over 20 cuts of the bands music. This is a reflection back to the 70s with good old rock n roll music. A must have for all those historians and inspiring musicians. Sit back and enjoy the show! We believe you will not be disappointed.

Artists:

Gary Lohmann

Kenny Vaughn

Randy Butler

Rick Hair

Instruments:

Lead Guitar

Drums

Bass Guitar

Keyboards